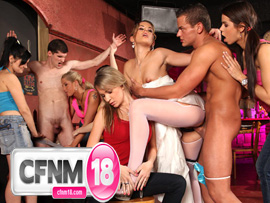 Visit Site
| Period | Price | $/day |
| --- | --- | --- |
| 30 days | $29.95 | $0.99 |
| 90 days | $69.95 | $0.77 |
Score





General Review
Many men are courious about how would it feel like to be naked, exposed and vulnerable in front of a crew of pissed off and incredibly sexy females. CFNM fetish gives some insight and shows us how dominant babes like to play with their nude boy-toys. CFNM 18 presents clothed-female-nude-male fetish in a not overly kinky, rather fun way. Alledgely 18 years old chicks take advantage of a guy (or occasionally two guys) and coax him out of his clothes to tease and please him. These young ladies are playful, naughty, kinky and love to be in charge! It's quite amazing how many different scenarios are shown by the scenes. Ok, they play out the good ol' bachelorette and birthday party with a male stripper card, but you can see a lot of variety in their mix. You can watch an anatomy class go out of control and a teacher gets stripped naked by his class of sexy schoolgirls, but there are other fun plots such as four bored college girls order some pizza and ambush the pizza delivery guy or a naked patient has to obey a group of sex-starved nurses. So plenty of fun and hot stuff is offered here! The models are gorgeous and they look young enough to be marked as 'teens'. Most of them seem to be porn newbies, but there are a couple of known porn starlets like Victoria Blaze and Ferrera Gomez. It's not easy to follow the storylines as the dialogues are in a foreign language (supposedly in Czech) and there are no English subs. Every now and then the girls show too much of themselves for no reason which can ruin the fun for big time fans of CFNM fetish. Nevertheless, every clothed-female-nude-male session is quite hot and entartaining, so if you like to watch group sex scenes with hot teens, you won't be disappointed. CFNM 18 delivers what its name implies and you can watch a group of clothed, young women dominate, have fun and lot of raunchy sex with naked - and very lucky - guys, so if that's what you'd like to see, then visit this site!
What's Going On Inside
CFNM 18 is a new, thus relatively small site. Despite this, it has some potential to be great. First of all, the site's design is quite catchy and looks fun and modern. The content is laid out in a very user-friendly way. After getting logged in, you will be greeted with the site's home page. This is the place where they list you every update. The scenes are presented with preview pictures and descriptions. As of right now, the complete lack of search options is not a huge negative, since there are only a couple of movies to watch. But in the future, adding some kind of filtering options to help you narrow your search for hot CFNM parties and orgies will be inevitable. On one long page they show you the complete collection of scenes which is pretty small or tiny to be more specific. Only 12 updates have been published so far and unfortunately it's almost impossible to tell how often updates come. There are no notifications about upcoming scenes and to make matters worse, the content isn't dated. I have to rely on the site's tour when I say something new is published each week. I hope they really work hard to make the collection grow big, because the videos are more than entertaining and these European babes are quite hot. Each CFNM porn movie is available to be streamed in an embedded Flash player. Only one quality is offered which looks clear and crisp enough. Below the streamed video you can find the download options. Members can download their favorite scenes (or every one of them) without any kind of restrictions or limits in Windows Media and MP4 formats. Users of mobile devices such as smartphones and tablets will be glad to note that mobile-friendly downloads are also provided. File sizes are displayed that are always welcome. Frankly, these are pretty much useless on this site. But why? - you might ask. Because not the actual sizes are shown, which makes no sense at all. High-definition playback is assured here as the downloadable files are at 1280x720 pixels @5000Kbps. The scenes are available in full-length or as a series of small clips. However, not every scene has partial videos. The movies are quite long as they play for 40-45 minutes on average. The updates come bundled with high-resolution images and screencaps. Each set can be browsed through in standard galleries, but you can watch pictures in a slideshow (not a hands-free version). The number of images packed into a set can as many as 700, so the downloadable ZIP files really come in handy. High-res pictures are provided at a best of 1966x1310 pixels. Screencaps follow the related video footage and have the same resolution of 1280x720 pixels. CFNM 18 is a site full of oddities. For example there's a 'Related Sites' page that is completely empty. You can like/dislike each scene and it seems to be the only way to express your feelings about the scenes, because you can't leave comments. Even though there's a section for 'Favorites', it will remain blank. How's that possible? There are no ways to save favorites or at least I couldn't find any. It seems they are currently working on providing members access to movie feeds, but right now, the supposedly bonus section for 'Movie Feeds' is just a blank page too! You can find links to a dating and a webcam site, but these are third party sites that require further registration and of course cost you some extra money. CFNM 18 is a promising new site that features gorgeous, young European women and hot CFNM themed erotica. Their exclusive content arrives in high-definition and its really fun to watch. There are a couple of downsides (e.g. empty sections in the members area, lack of date stamps) that can make CFNM 18 a site that needs some time to be worthy recommending. But if you can't wait and have an itch to watch a group of clothed teens have naughty fun with naked guys, then go and check out what CFNM 18 has to offer!
Members Area Screenshots
Sample Galleries